Reopening Visitor Information
We've
missed you… and we're delighted to reopen on 19th May!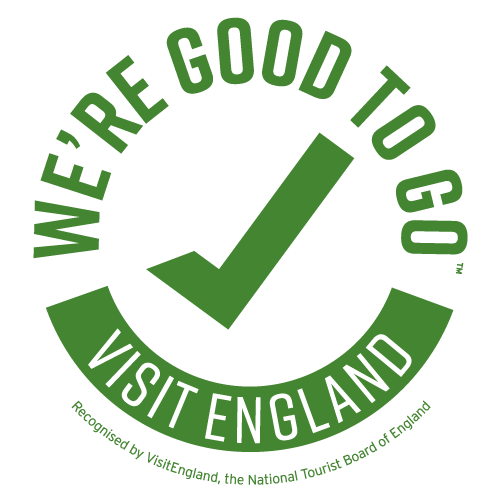 The team at  York Castle Museum are really looking forward to welcoming you back  and prior to your visit, we  want to make you aware of  a few  changes that  we have introduced.
To ensure that we can help maintain social distancing we will be operating on a guided tours only basis. We've  introduced advanced booking which will let you plan your visit and pick a tour of your choice up to 1 week in advance. All visitors MUST  pre-book their tickets.
To ensure the safety of our visitors, staff and volunteers, a range of measures will be in place. These include hand sanitiser units on arrival throughout the building and on exit and monitoring of capacity. All our Visitor Experience  staff  have been supplied with protective face visors and there will be extra cleaning of  the  toilets and public spaces.
Planning Your Visit  
We hope the below  list of questions and answers will help you plan your visit.
What times will the York Castle Museum be open?   
Tours at the museum will run Wednesday – Sunday, between 11am and 5pm.
What can I see when you reopen? 
Please note that due to the current government guidelines York Castle Museum is operating guided tours only at the moment, this means that you tour ticket does NOT admit you to the rest of the museum. We apologise for any inconvenience caused and hope to be able to announce standard opening for York Castle Museum in the near future.
Each of the tours will be guided by one of our experts who will give you a new perspective on some of the museum's most famous displays and collections.
Find out more about the tours available here.
Will I need to book  a ticket and is there an entry cost?   
To open safely we're limiting visitor numbers on each tour and  all visitors to book  tickets in advance. Groups will only be able to book up to 6 tickets.
You can find out more about the individual tour prices here.
Does everyone need a ticket?  
Everyone, including YMT Card members, need to buy tickets online.
I can't  book  tickets online - what do I do?  
If you can't book online please phone 01904 687687.
What do I do upon arrival?  
To ensure the tours run on time, please arrive  10 minutes before your tour time at York Castle Museum's main entrance and have your printed ticket or QR Code available to show a member of our Visitor Experience Team.
If there is a queue, please follow social distancing guidelines.
Once your ticket has been scanned and processed, each member of your party will be checked in via the NHS App.
All visitors are asked to download the NHS Covid 19 Test & Trace App in advance of their visit.
Download here from Apple store.
Download here from Google Play store.
Visitors are asked to check in upon arrival via the App using the QR code displayed at the museum entrance. This applies to all individuals in the group with the exception of children under the age of 16. If you  or a member of your party does not own a smartphone or does not wish to download the app, you will need to provide your details to a member of our team.
A member of our Visitor Experience team will guide you to the tour starting point within the museum. Each group will be allocated a waiting point in line with the social distancing guidelines and the tour will start at your allocated time.
Can I cancel my booking? 
We understand this is an exceptional time and in the following circumstances, we will issue a full refund:
If you have Covid-19, have symptoms or have been told to self isolate
If York Museums Trust venues are closed because of the pandemic on the date of your visit
If you have booked the wrong time and date but have rebooked with a new time we will refund the booking made in error
PLEASE NOTE:
We are unable to transfer bookings to a new time at the moment, you must rebook the desired slot and we will then refund the booking made in error
You can transfer your ticket to another person or group if you can't attend
Please allow 10 days for your account to be refunded
We are unable to offer refunds for:
Late arrivals / missed visits
Tickets booked for the wrong date without proof of a second booking
 Are there any discounts for YMT Card members? 
As these are specialist events rather than part of our standard opening, YMT Cardholders will need to pay to for these tours.
What happens if I'm late for my time slot?  
If you're more than 10 minutes late for your timeslot, unfortunately we won't be able to guarantee entry. This is to help us keep the tours running on time and to ensure everyone is safe within the museum by keeping visitor numbers at the required levels.
Will there be refreshment facilities available?   
Unfortunately the café will not be running at the moment.
Will York Castle Museum shop be open?  
Yes you will be able to browse and purchase items after your tour has finished.
Will I have to wear a face  mask?  
It is compulsory for everyone over the age of 11 to wear a face mask unless they are unable to do so for medical reasons.
Will there be hand sanitiser available on site?   
There will be hand sanitiser units on arrival, exit and throughout the museum.
Are there toilets?  
Yes, toilets will be open  for  visitors, with regular cleaning in place.
How do you contribute to prevention of the spread of COVID-19?  
The safety of everyone is our key priority and we ask our visitors at all times to respect each other, our staff and volunteers. If you're showing any of the symptoms of coronavirus, or if you've been in contact with anyone that has the virus in the last 14 days and have been asked to self-isolate by the NHS Track and Trace service, please do not visit.
We will ask you to provide your contact details that we will share with the Track and Trace service if needed. Your data will be used for the NHS Track and Trace service purposes only and will only be stored for 21 days.
What about social distancing?   
We also ask all visitors to adhere to social distancing and the current government guidance. Where we anticipate queues, signage about social distancing will be clearly displayed.
We will operate a one-way system for visitors to follow at the entry and exit points, with appropriate signage to show the way. While on the tour you will be free to explore the spaces in a socially distanced way.
Our Visitor Experience team will help to ensure a welcoming visitor experience for everyone.
Have you competed a Health and Safety risk assessment?  
Prior to re-opening, we have reviewed our operational plans and policies. A comprehensive risk assessment has been produced in line with the  COVID-19 secure re-opening guidelines. View our Risk Assessment here.